[ Sunday, January 17, 2010 ]
Kate got her ears pierced today. She had asked off and on for several months, but we were concerned about her ability to withstand the pain. Today I finally relented, and off to the mall we went. She picked out her earrings, a pair of tiny crystals in the color of her birthstone. Then she sat on the stool and smiled as the woman approached her with the little tool they use these days. One second later she was struggling not to cry. She just whispered "Mommy, it hurt!" and I held her hands. Then the other ear was pierced and she cried softly for about 10 seconds. By the time I got her down from the stool, she had stopped crying and promptly chose her "comfort gifts", a plastic necklace and blue fairy wings. The woman at the store said "I've seen
adults
cry more. She is really good!". And here is the photo to prove it, taken just a couple of minutes later.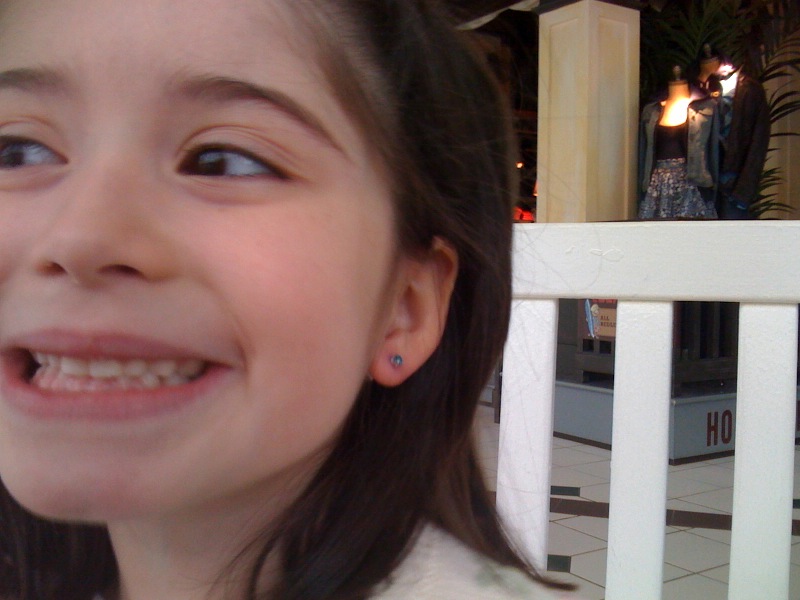 [ Monday, January 11, 2010 ]
Holiday season is a hectic time and 2009 was even busier than usual. Kate enjoyed Christmas (of course), showing great interest in decorations and holiday songs, particularly "All I Want From Christmas". She sang it so often and with such gusto, I could hear it in my head for days and days afterward. She received an astonishing number of gifts and probably doesn't even remember half of them anymore. Her favorite at my house was a stuffed Marie that purrs and meows when brushed. We had Christmas Eve dinner at our house, went to Grandmother Natalie and Grandfather Jim's house for lunch the following day, and ended Christmas with a wonderful dinner at Gigi and Granddad's condo. On New Year's Eve we stayed home, avoiding sub-freezing temperatures and a steady rain. On New Year's day, we had friends and family over and offered a kaiseki (Japanese banquet) with several elaborate delicacies that we enjoyed over our many trips to Japan. It was a tremendous effort and quite a culinary accomplishment for me and Jeff. Kate got a pair of training chopsticks and is doing really well with them. She continues to love Japanese food, particularly miso soup, broiled eel and raw salmon. We may have started a new holiday tradition.
[ Sunday, December 20, 2009 ]
Kate can make me laugh out loud even in the crappiest of days. She recently started telling about this made-up "cat island" where thousands of cats live.
Kate: "...and you can only enter the island on Halloween"
Me: "Really?"
Kate: "yes, it's very far away. REALLY far. At the end of the world, actually. Near Honduras".
Yesterday our area was hit with the biggest snow storm ever - 20 inches! Kate refused to go out while the snow was falling but this morning it was sunny (if not warm) so we bundled up and stepped outside. Kate got buried up to her waist in places, and we were in danger of losing the cat at some point, but she had a wonderful time.
[ Wednesday, December 09, 2009 ]
Kate's 5th birthday party was a success and her happiness was worth every second of hard work throughout the weekend. It was a small Princess-themed celebration for her best girl friends (no boys allowed) at Gigi & GranDad's condo, but we all worked tirelessly to bring it together. I spent the weekend in the kitchen, baking and decorating crown-shaped cookies and making a pink cake with an edible image of the Disney princesses. The party was on Sunday, a day before her real birthday. On Monday I baked cupcakes for a party at her school, and at night we took her to dinner at a Japanese restaurant (her choice). Now we can take a moment to breathe, and then switch gears to prepare for the holidays.
[ Friday, December 04, 2009 ]
I took a 12-day vacation in Japan this month, without Kate. I've done this several times before, always walking the fine line between wanting her to grow up independent and self-sufficient, and at the same time hoping that she will miss me a little bit. She never seemed to care much when I was gone. This time, it was very different. As I usually do, I set up a schedule of calls and emails that could be read to her every day. Much to my surprise, she was very aloof when I called and David finally told me that she was upset and refused to let them read my emails to her. My heart broke in a million pieces. Kate is so smart and articulate that I sometimes forget that she is not quite 5 years old yet, and take from granted that she will understand and rationalize like an adult. When I got back she asked me for the first time why I didn't take her with me. I tried to explain the concept of a balance between fun together and fun apart, using her trips to the beach with the grandparents as an example. She quickly warmed up to me again (aided by the many gifts I brought from Japan), but I made the decision to take her to Japan with me next time. It's exciting to think of all the wonderful things I want to show her.
[ Tuesday, November 17, 2009 ]
Kate is really into baking now. We've baked enormous batches of cookies for two weekends in a row, and I'm finally getting good at decorating them (who would have thought that a pastry bag filled with icing required so much dexterity?). Kate, on the other hand, is only interested in pouring the ingredients into the bowl and watching the mixer. She looks adorable in a little pink apron with "Marie", the kitty from the Aristocats. Speaking of cats, she is being tormented by Tempest in the middle of the night. Unfortunately, Kate's bedroom door doesn't shut so Tempest can sneak in at 3am and nibble on Kate's toes to wake her up. It's gotten so bad that we started locking Tempest in the basement during the night. Twice she's broken free (we don't know how) and we wake up with Kate's shouts "Tempest, no! No biting!". It would be funny if it wasn't the middle of the night.
I took Kate ice skating for the first time over the weekend. She loved it! It was pretty funny to watch her struggle to stand even before we got to the ice, and it was no better once we were "skating". I had prepared her for the inevitable falls and the cold and wet bottom, but was surprised to see that she didn't mind falling at all. She was having such a wonderful time and didn't want to leave. The only way to get her away from the ice was to promise her lessons.
[ Thursday, November 12, 2009 ]
We had a week from hell. David was exposed to H1N1 (i.e. the swine flu) at work, and Kate started showing symptoms on Halloween night. Her fever spiked at 103 and for several days I kept her at home and separated from David to make sure they both recovered. When the fever would not break after several days, I took her to the pediatrician, who confirmed that she had the swine flu. Luckily her symptoms were mild enough that we continued to use over-the-counter medicine and didn't have to go to the hospital. The fever finally broke after a week, but it was several more days until she went back to school. This all happened the week after 19 kids died from the swine flu. I was terrified, but she is back to normal now and I - for once - didn't catch it.